Every organization is perfectly structured for the results it's getting NOW.
You don't know what you don't know.
We'll help you find your blindspots. We'll help you pinpoint where you are strong... and where you are vulnerable.
You don't need a Consultant. You need... a Coach.
Knowing what to do is only 20% of the work.
Going about it without blowing everyone and everything up is other other 80%.
We will help you do the right thing the right way. We are available to you 24/7 in real time. We are your Coach!
We'll Coach Your Team.
We won't just coach you. During our onsite visits, we'll circle up with your Team & provide crucial training.
We will put the ball "on the tee" for you as Leaders by fostering Courageous Conversations© and help you build a Killer Team and a Drama Free Culture. Meeting your key players also makes us a better Coach to you as the Leader of the Team.
Healthy Things Grow.
We'll help you make sure you don't grow...at the expense of health. Healthy things thrive. Unhealthy things implode!
The Gears of Growth© Framework will empower you to:
Create A Drama Free Culture©
Build A Killer Team©
Foster Togetherness
Assess Your Talent
Maintain Simple Systems That Scale
Structure For Growth & Peace
Maintain Rhythms and Finish Lines
We'll work on YOU.
The bad news? If you are the Leader, you are the Lid. The good news? You are the lid! If you get better, everyone and everything else will get better! We'll help you lead yourself to the next level by helping you:
Clarify your PURPOSE

Lead with more PASSION

Maintain your PRIORITIES

Set Process-Oriented Goals© that allow PROGRESS

Build love & respect from the PEOPLE around you.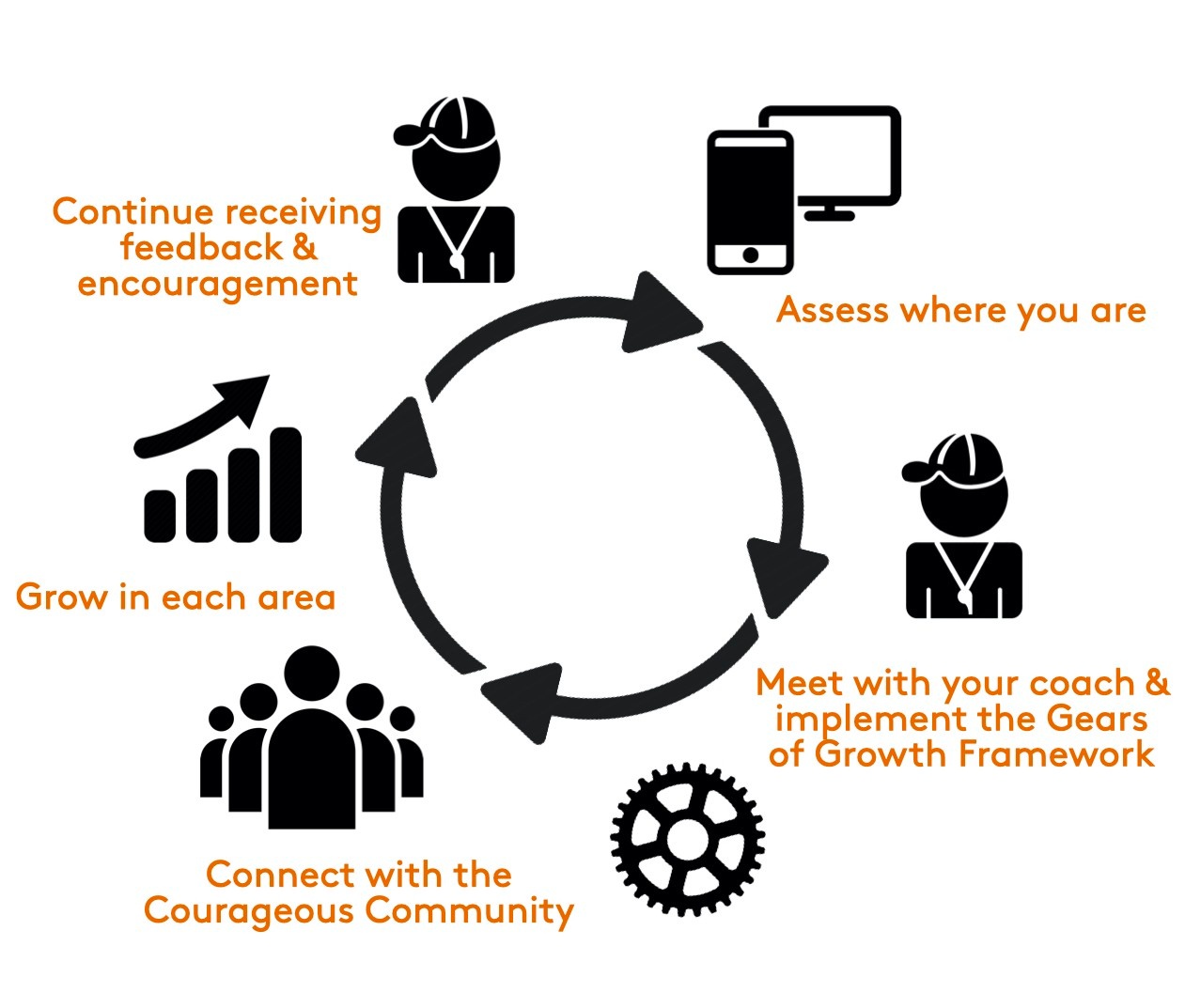 Any cog— or gear— in your car's engine can keep the entire vehicle at a standstill. Or cause it to move slower.

When the gears all work in alignment and move in sync, the results are fabulous!
We'll help you assess your organization, the strength of each growth gear, attack the gear that might have you stuck, then work with you to make all the gears move smoothly.
You'll go farther, faster, with less effort…
Kirk Jones, Baton Rouge
"...relatable and usable. This has been encouraging and has given me permission."
J.C. Worley, Atlanta
"... helped me through our roughest year, then helped us have our best ever!"
Chris Johnson, Harrisonburg
"...helped me focus and change one habit or a new concept, consistently..."
You don't need another podcast— you need a person who's got your back, someone who's also looking ahead on your behalf.

You don't need another conference— you need someone in your corner, a coach.

You don't need another book— you need a brother, and a brotherhood.

We're convinced you have what it takes. We want to help you not only lead, but lead at the next level.
Show me the coaching pathway